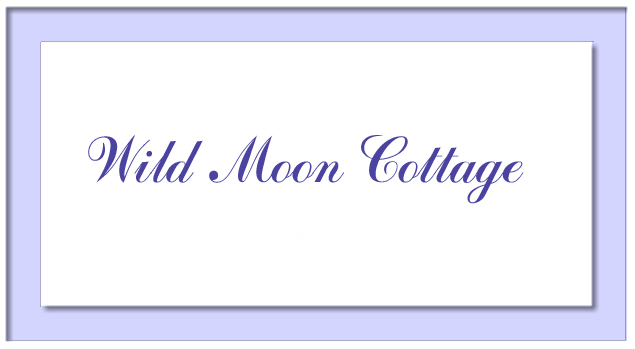 Home * Personal Profile * Starlight Vibrational Healing * Energy Healing * Aura-Soma
Wild Moon Cottage * Online Store * Contact
The Spirit of Wild Moon Cottage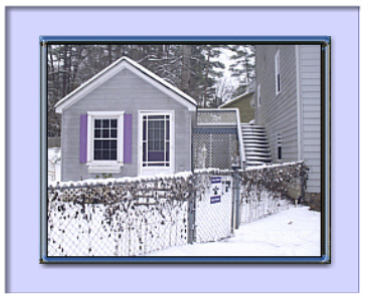 I commissioned a small, cottage-like one room building to be built in my backyard so I could see clients and hold sessions and classes in a private setting. I call this quaint little building, this sanctuary, Wild Moon Cottage. Wild Moon is not your ordinary, pre-fabricated shed or out building that you buy at Home Depot; it's a well built (stick built as they call it) cottage style building with all the finishes you see in custom built homes. The cottage has three large double pane windows and a steel door with a window in it. There is a 12 foot vaulted ceiling that gives this otherwise small space a feeling of openness. The picture here is of the cottage after the big snow we had in January 2011.
Wild Moon Cottage isn't fancy by any means. It's painted the same color as our house, light pearl gray, except for the purple door and shutters. The inside walls are deep amethyst and the vaulted ceiling is midnight blue-black - the color of the night sky - where the vastness of the Universe is projected onto the ceiling for clients to reflect upon. Deep amethyst velvet floor length curtains complete the cozy look of the cottage, but she isn't dressed up for social events. Wild Moon is a place of healing and learning.
Here you see the astrological chart for Wild Moon Cottage, by Loni Haas. The words that follow are what she wrote to explain the meaning behind the planetary placements:
Created when the Sun was in the sign of Leo and posited in the Ninth House, the heart of Wild Moon Cottage beats with the Light of Higher Consciousness. All souls who cross her threshold are generously lifted up and gently enfolded in Spiritual Love. Blessed with a Sagittarius ascendant, those who seek enlightenment are welcome in Wild Moon.
The sound of laughter and joy can often be heard resonating within the sanctity of her walls for the souls who play here find happy respite from the outside world. In the glow of candlelight, arcane philosophies and old and new magic are engaged. With the Moon in Capricorn in First House, Wild Moon is an earthly mother who expects her visiting children to be responsible in their spiritual work and duties towards others. She has a love of beauty and grace in all things . . . especially her children.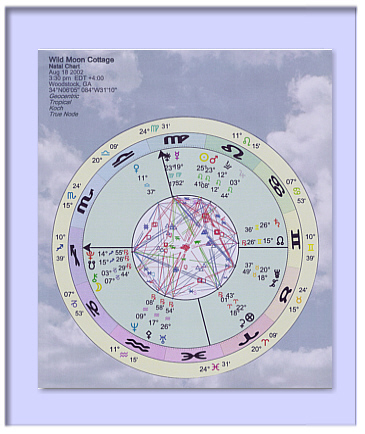 Evidence of foreign cultures and religions enhance her space for Mercury is in Virgo in the Ninth House house. The atmosphere instills Universal knowledge, obeys cosmic law, and embraces Divine Truth. Peace and harmony serve as a glittering crown for Wild Moon as Venus is in the Tenth House of Libra.
Beautiful music, sparkling candles, and artistic renderings are among her prized possessions. With Mars in Leo in the Ninth House, those who enter are challenged to explore the higher meaning of life and are encouraged to express their own creativity.
Exploring the depth of all matters esoteric and journeying along other planes of existence comes courtesy of Jupiter in Leo in the Eighth House and a bit of Butterfly. When the journey is done, new perspectives are born from old logic. These are shared with others for Saturn is in Gemini in the Seventh House. Communicating these new findings in a way that would benefit humanity is the motivation of Uranus in Aquarius in the Third House.
The wish of Neptune in Aquarius in the Second House is that the children of Wild Moon pursue new spiritual visions so that they may be blessed with the gift of revelation.
Pluto in Sagittarius in the First House promises powerful transformation for those who enter Wild Moon Cottage through the process of spiritual cycling and regeneration. Only those willing to change will be allowed to stay. Chiron in Capricorn in the First House assures that all who earnestly seek holistic knowledge will be satisfied.